It is really important that children are safe when they are online. It is vital that you, as a parent, closely monitor how your children are using the internet and setting 'parental controls' in your web settings as appropriate.
There is a lot of advice and guidance available for parents/carers to enable you to ensure that your children are safe whenever and wherever they go online.
Please see the websites below to understand some of the risks children can be vulnerable to and how you can prevent them.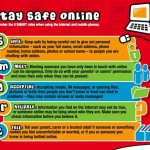 Please take a look at the work we have been doing in the classrooms about being safe online.